iPhone Battery replacement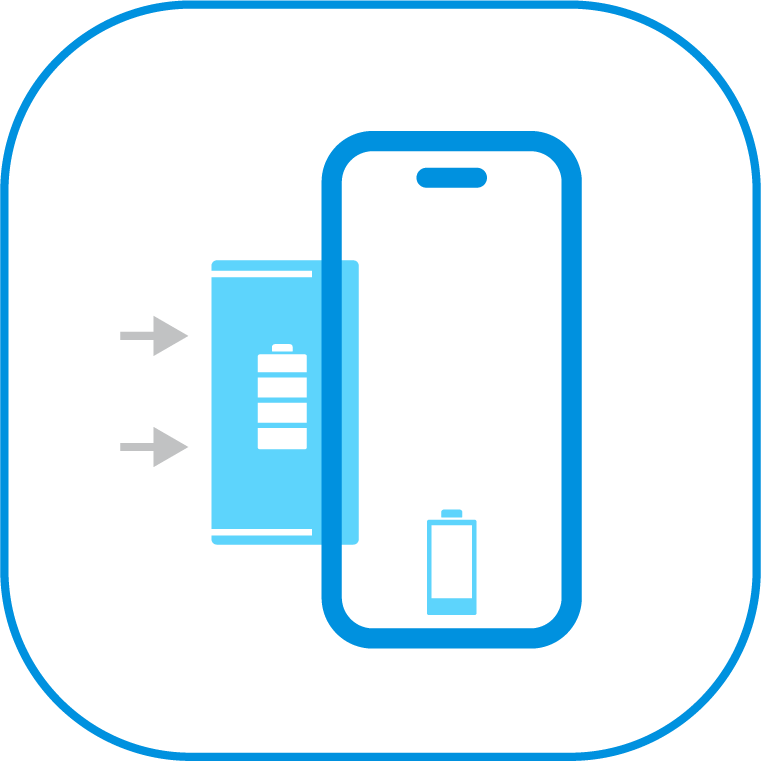 A smartphone may have cool specs, but if its battery fails, the gadget turns into a useless brick. Is your iPhone having battery problems? We'll fix it!
FAST IPHONE BATTERY REPLACEMENT
If your phone suddenly turns off, overheats or charges to 100% in 15 minutes and no longer holds a charge, you most likely need to replace the battery.
To make sure of this, check your iPhone's battery status: Go to Battery > Battery Health. If your iPhone's battery health is below 80%, it is considered to be degraded and may need to be replaced.
In this case, the solution to the problem is to bring it to us. If you are far from us you can also send it by mail.
We'll replace your iPhone battery and test it to make sure it's working properly. This process usually takes several hours.
Tip: If you have AppleCare+, be sure to use it to get a free iPhone battery replacement.
What happens if you continue to use an old iPhone battery?
You may encounter a number of problems, some of them are simply inconvenient, and others may even be dangerous for you.
Decreased battery life. As batteries age, they lose their ability to hold a charge. This means you'll have to charge your iPhone more often.
Unexpected shutdowns. You may experience unexpected shutdowns, especially when your battery is low.
Slower performance. Old batteries can also cause your iPhone to run slower than usual. This is because iOS will throttle your iPhone's performance to prevent unexpected shutdowns.
Bloated Battery. In rare cases, old batteries may become swollen. This may damage your iPhone and even make it dangerous to use. Most likely you have heard about such cases.
That is why if you have a problem with your iPhone battery, we strongly recommend that you don't put up with it and bring your phone to us.
WHY CHOOSE US FOR IPHONE BATTERY REPLACEMENT?
Replacing an iPhone battery is a delicate process that should only be performed by a trained and experienced technician. Here's why you should trust us to replace your iPhone battery:
Knowledge and Experience: Our technicians have years of experience working with Apple devices. They have the knowledge and skills needed to effectively replace your battery without damaging internal components.
Specialized tools. We use special tools specifically designed for iPhone battery replacement. These tools provide an accurate and safe battery replacement process, minimizing the risk of any damage.
Timely Service: We understand the importance of your iPhone to your daily life. We're committed to providing same-day service so you can get your iPhone back as soon as possible. In some cases, depending on demand or iPhone model, battery replacement may take several days.
Affordable prices. Our battery replacement costs are competitive and vary depending on the iPhone model. Anyway, replacing the battery is usually cheaper than buying a new iPhone.
Warranty and support. We stand behind the repairs and offer a warranty on all iPhone battery replacements. Additionally, our customer service team is available to answer any questions or concerns you may have.
Don't risk replacing your iPhone battery yourself. Trust our professional technicians to provide high-quality, reliable battery replacement service.
Contact us or visit our office today to solve all your iPhone battery problems.
Is it worth replacing the battery on an old iPhone?

It depends on your needs, financial capabilities, the degree of deterioration of the battery, and other factors.
For example, if you are planning to buy a new gadget soon, you should not change the battery. If the smartphone completely suits you and you will use it in the near future, the replacement of a worn-out battery is vital.
At the same time, you should understand that repair engineers will open the case of your smartphone, and this will break the tightness. Your iPhone will be less protected from moisture.
Another important nuance is where and who will change the battery. If you take the gadget to inexperienced repairmen and insert a low-quality battery, the result can be very bad.
However, if you handle it responsibly, find a reliable repair shop, and don't skimp on good new parts, you'll be happy with the result and will be able to use your old iPhone for a long time.
Can I replace my iPhone battery before 80%?

Recent versions of the iPhone have a Battery Health menu (Settings > Battery > Battery Health). Here you can find information about the maximum storage capacity of your iPhone as a percentage.
It also explains these figures. For example, "100%. Your battery has normal peak performance" or "79% or less. The condition of your battery has deteriorated significantly."
According to Apple, the standard iPhone battery is designed to retain 80% capacity after 500 full charge cycles. After reaching this value, it is better to replace the battery, as it may become unstable. So, you can come to the service center and ask to change the battery.
But what if the statistics show above 80%, but the battery is already acting up? Usually, Apple service centers are not very fond of changing the battery ahead of time and most likely they will refuse this service.
In this case, we advise you to contact a repair shop, have your iPhone diagnosed by an experienced craftsman, consult with him, and then make a final decision.
How long will a replaced iPhone battery last?

If you go to a good repair shop and put in a quality battery, it will last you a long time. Please note that if you are offered to install a battery with a company logo, this does not mean that you have an original thing in front of you. China knows how to produce high-quality fakes.
Therefore, change the battery only from reliable repairmen who use quality components.
Also, the battery life depends on how you use it. Remember a few simple rules:
1. Charging with a non-original adapter leads to more battery wear.
2. For the battery to last as long as possible, do not completely discharge the iPhone, try to connect the charge in time.
3. Do not use an iPhone while charging, or in extreme heat or cold.
Check the resource regularly so as not to miss the moment when an urgent iPhone battery replacement is needed.
Why is my iPhone battery draining so fast?

Batteries installed in the iPhone begin to oxidize after a large number of charge cycles, and their overall capacity drops. This cannot be prevented or fixed. All users experience this.
There are other common causes of iPhone battery problems:
moisture got inside the case;
mechanical damage to the iPhone;
use of non-certified chargers and improper charging;
battery wear.
It is almost impossible to independently determine the cause of an iPhone battery failure. To do this, you need to carry out a complete diagnosis of the iPhone very carefully, and only then proceed to repair the iPhone. This service is only available at iPhone service centers and repair shops such as Repairs Bay.
| | | | |
| --- | --- | --- | --- |
| Service Name | Estimated Price | Warranty | Time |
| iPhone X | $70 | 30 days | up to 1 h |
| iPhone XS | $80 | 30 days | up to 1 h |
| iPhone XR | $80 | 30 days | up to 1 h |
| iPhone XS Max | $80 | 30 days | up to 1 h |
| iPhone 11 | $95 | 30 days | up to 1 h |
| iPhone 11 Pro | $120 | 30 days | up to 1 h |
| iPhone 11 Pro Max | $120 | 30 days | up to 1 h |
| iPhone 12 Mini | $135 | 30 days | up to 1 h |
| iPhone 12 | $160 | 30 days | up to 1 h |
| iPhone 12 Pro | $160 | 30 days | up to 1 h |
| iPhone 12 Pro Max | $175 | 30 days | up to 1 h |
| iPhone 13 | | 30 days | up to 1 h |
| iPhone 13 Pro | | 30 days | up to 1 h |
| iPhone 13 Pro Max | | 30 days | up to 1 h |
| | | | |
| | | | |